Anchor Drilling Rig Dth Hammer Drilling Machine Rock Drill Mine Drilling Rig
Multi-functional engineering drilling anchoring rig is a new type of power head crawler walking drilling rig developed to meet the needs of engineering construction market. The drilling rig is mainly suitable for carbide Borehole drilling, coring drill, geological survey,auger drilling, DTH drilling, pipe following drilling, jet grouting engineering construction and other drilling methods. It can be widely used in tunnel pipe roof support, deep foundation pit anchorage, open-pit quarry blasting hole, anti-floating anchorage, soft foundation treatment, ground source heat pump hole, hydrological wells, foundation pile construction and geological hazard control and other engineering fields.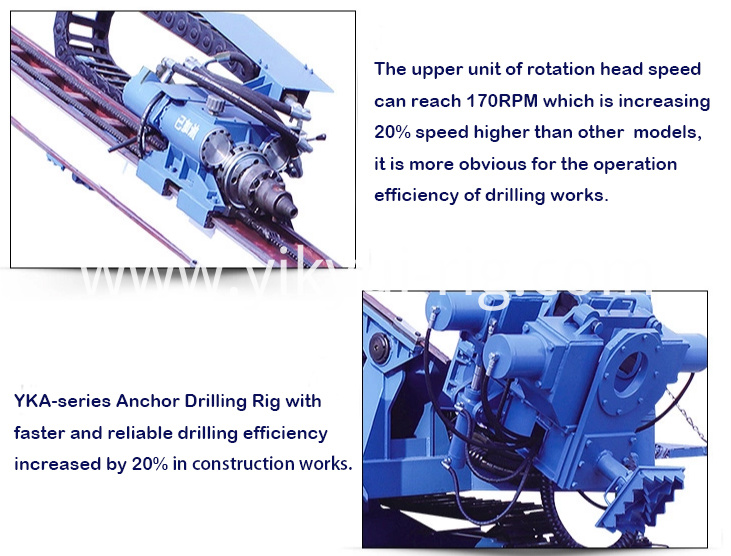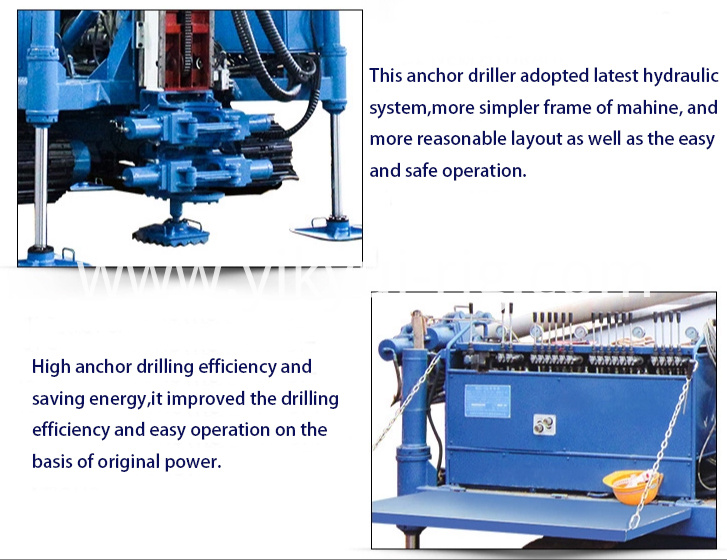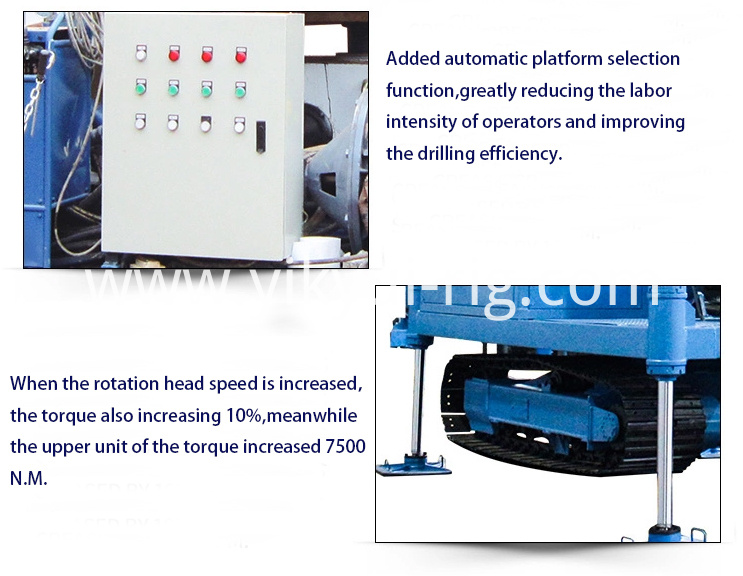 I. Main Characteristics

1. The drilling rig is an intelligent high-end full hydraulic drilling rig. Load sensing technology is adopted in the design. The power changes with the load. It is efficient, energy-saving and has remarkable effect.

2. All drilling functions and other actuators are designed to work at the same rated pressure. Therefore, when different drilling processes, methods and load changes are adopted, no modification of the hydraulic system controlling drilling functions and other executing functions is required. The operation is convenient and the effect is improved.

3. The power head is designed to be driven by a variable-speed two-speed motor. The combination of four-speed mechanical transmission and hydraulic infinite speed regulation makes the drilling rig have eight-speed, wide speed range, high low-speed torque and high power utilization rate. The speed of each gear can reach zero. It is suitable for different drilling and construction requirements.

4. The power head has the function of hydraulic pipe pulling, which can easily solve the problems of sticking and not taking out the drill pipe quickly. Especially in the construction of tunnel fractured rock mass and fractured zone rock mass, the function is more prominent.

5. The feeding and hoisting system adopts the cylinder-chain stroke multiplier mechanism. Give a long journey, enhance the ability.

6. Both mast and chassis adopt rotary mechanism, which enables drilling rig to drill in all directions and is suitable for engineering construction in various complex and narrow environments.

7. Equipped with gripper and unloader, it has high automation, convenient operation and high efficiency.

8. Rotary mobile operating table is adopted to enable drillers to observe the hole condition and avoid the puzzlement of dust during air drilling.

9. The drilling rig adopts hydraulic crawler chassis, which has strong maneuverability and convenient transportation.


Drilling diameter

75-250mm

Drilling depth

130-180m

Inclination of Drill

all angle 360 degree

Working Pressure of Hydraulic System

31Mpa

Technical parameters of power head

Maximum Torque of Power Head

9700 n.m

Power head lifting capability

80KN

Power Head Feeding Capability

40kN

Hoisting speed of power head

4.5-12m/min

Feed speed of power head

9-24m/min

Feeding device

Cylinder + Chain

Gripper

50-219mm

Power head feeding stroke

3400mm

Speed and Torque of Power Head

Speed (rpm) Torque (n.m)

38-25-0 6300-9700

78-51-0 3076-4700

145-95-0 1650-2500

251-164-0 960-1400

Crawler parameters

Climbing angle

25 degree

Crawler sprocket center distance

1984mm

Crawler Grounding Voltage Ratio

Less than 45kpa

Walking speed

1.1-1.8km/h

Drilling angle Rotation parameter

Rotation mode

Hydraulic automatic rotation (chassis rotation, mast rotation, full 360degree)

Rotation structure

Rotation bearing

Positioning method

Hydraulic positioning pin

Power parameters

Power (motor) y250m-4

55kw/1480rpm

Power (Motor) IP55 IE2 B14

2.2kw/1450rpm

Outline size

Level (length * width * height) 5600 * 2100 * 2566mm

Vertical (length * width * height) 4400 * 2100 * 5650mm

weight

7500kg
If you have any question or need technical support for drilling or Mineral Prospecting,please reach us at any time,Yikyui Geodrills Gears,your better choice!
Looking for ideal Full Angle Multifunction Drill Machine Manufacturer & supplier ? We have a wide selection at great prices to help you get creative. All the Drill Machine for Bolting Jet Grouting are quality guaranteed. We are China Origin Factory of Excavator for DTH Geological Drill. If you have any question, please feel free to contact us.